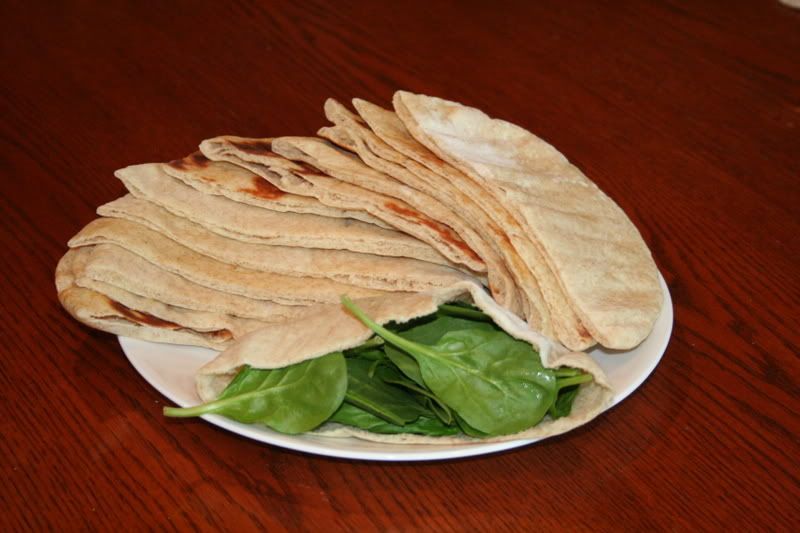 I have been making my own pita bread for a couple of years now, and obtaining somewhat smallish "pockets". But today I tried a new recipe, and with a little 'tweaking', this batch puffed up and became beautiful pita pockets that resemble ones I've bought from the grocery store! I will definitely use this recipe again!
Pita Bread
Combine in a large bowl:
1 C Whole Wheat Flour
1 C All-Purpose Flour
1 1/2 TB Sugar
1 1/2 tsp Salt
2 pkgs active dry yeast (1 1/2 TB)
Add:
2 TB Butter, melted
1 1/4 C room-temperature water
Mix by hand until dough comes together and then knead for about 5 or 10 minutes. You want to achieve smooth, soft and elastic dough.
Transfer dough to an oiled bowl and turn in once to coat. Cover with plastic wrap or damp towel to rise at room temperature until doubled in bulk (1 to 1 1/2 hours).
Punch down dough and divide equally into 8 pieces. Allow pieces to rest for 20 minutes. Meanwhile, preheat oven to 450 degrees.
Make sure your oven has been at this temperature for a while.
Set a rack in the lowest level of the oven and place a baking sheet on it to heat for about 5 minutes, while you begin shaping the pitas. On a lightly floured surface, roll out each piece into an 8-inch diameter round, about 1/16 inch thick. You want these to be
really
thin.
Once your baking sheet is good and HOT, carefully grease a section, with shortening, where you will place your pita.
Immediately place a pita onto the greased surface. I was only able to fit one onto a regular sized baking sheet, so I used 2 baking sheets at a time.
Bake the pitas for 3 minutes, or until they completely puff up in the oven. Try not to open the oven door, as heat escapes quickly and the temperature drops easily! Once they've puffed up, give them another 30 seconds, and then remove them. You may not think they are cooked, but if you've rolled them thin enough, don't worry. You don't want them to turn brown or crispy on the bottom or else they crack when they've cooled, and they won't deflate into disks properly.
Repeat with each round.
Once they've cooled, slice each round in half, and, with a serrated knife, gently slice areas of each round that may not have puffed in the oven to create even pockets.