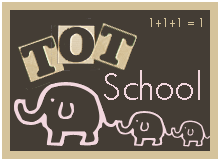 I took pictures this week of those sort of intentional, (yet spontaneous at the same time, if that makes sense) teaching times that I had with my DD 2 and a half year old. She is eager to learn new things and be more and more independant. I have been surfing the net to find some preschool ideas, and I was so excited to purchase the Sonlight P3/4 Parents' Guide. I am eagerly waiting for it to arrive in my mailbox now.
We colored and pasted a picture of the human body. DD enjoyed pasting the neck below the head and the feet below the legs.
We also visited our little scallion garden. We have harvested a couple of scallions this fall, and have enjoyed eating them in salads. DD goes out and samples them every now and then.
We also practiced throwing this week! We rolled up socks and practiced throwing them into a basket. This kept DD busy for about 45 minutes! I was surprised.